Discover beautiful pieces that tell a story...
Explore our selection of well-crafted vintage pieces proven to pass the test of time, and handmade jewelry or décor from local artisans. With a focus on sustainability and ethically sourced goods, we aim to support Women/POC/Queer owned businesses. You are sure to find something you can feel good about loving.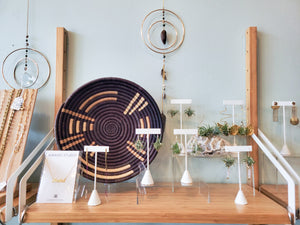 Jewelry
Browse our selection of vintage jewelry, as well as current hand-made pieces from local Bay Area artist
Shop Jewelry
Stationary
Grab a journal for you, and a card for your friend.
Visit The Golden Hour
147 Clement St.
San Francisco, CA 94118
Wed - Sat, 11am - 6pm
Sunday, 11am - 5pm